Coach Doug Taylor
Physical Education Teacher and Athletic Coach 1937 - 1973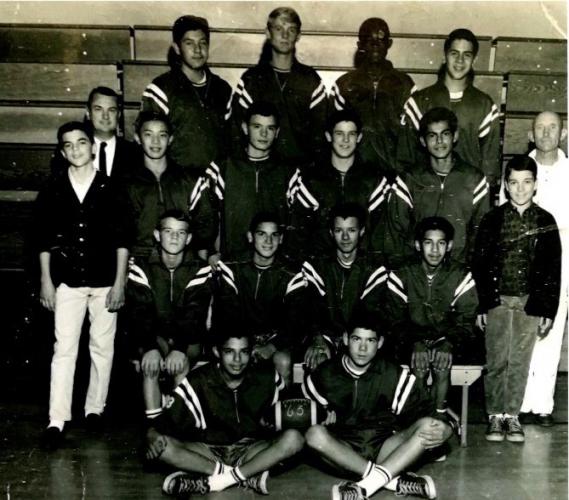 Today we pay homage to an extraordinary member in the history of Sutter Middle School whose influence is everlasting. Coach Doug Taylor was a teacher, athletic coach, mentor, and pillar of our Sutter community from 1937 to 1973. Coach Taylor was on staff at Sutter Junior High School when it transitioned from the original campus on 19th and K St. to its current I Street location.
During his 37 years at Sutter always donned in white, Coach Taylor taught physical education and coached several of Sutter's athletic teams. Coach Taylor cared deeply for his Sutter Miners. Former students remember him for his high expectations and his clear demonstration of fairness for every Miner; Coach never favored anyone, especially the athletes. His passion for teaching physical education focused on providing his students with opportunities to experience the self-satisfaction of participating in vigorous daily activities.
Doug Taylor coached several sports at Sutter at one time or another, including football, baseball, and track. If he had any regrets from his time at Sutter, it was that he was never able to coach the soccer team. During the prime of his on athletic career, soccer and track and field were the sports in which he excelled the most. After attending Sacramento High School, Taylor was an exceptional student athlete in both sports at San Jose State University. During his time at San Jose State, his athleticism, tenacity, and perseverance earned him the nickname, "The Greyhound." He starred on the soccer field at San Jose State and on the San Francisco Rovers Soccer Club during their dynasty years in the 1930's. On the track and field team for San Jose State, he specialized in the 100 meter sprint and the broad jump, now known as the long jump. Towards the end of his athletic career, Taylor reached his pinnacle in track and field as a sprinter in the 1936 Olympic Trials in Chicago, where he raced against, and was defeated by, the great Jesse Owens.
Today, the Doug Taylor Award is given annually to two eighth grade recipients from the Sutter track and field team who best represent their team and school with integrity, ambition, and humility. We hope these three values represent Sutter in its finest fashion, something we hope Coach Taylor would be proud of.